Working at Zenobē
Join a diverse, global workplace with teammates who are passionate about taking on big problems with innovative solutions.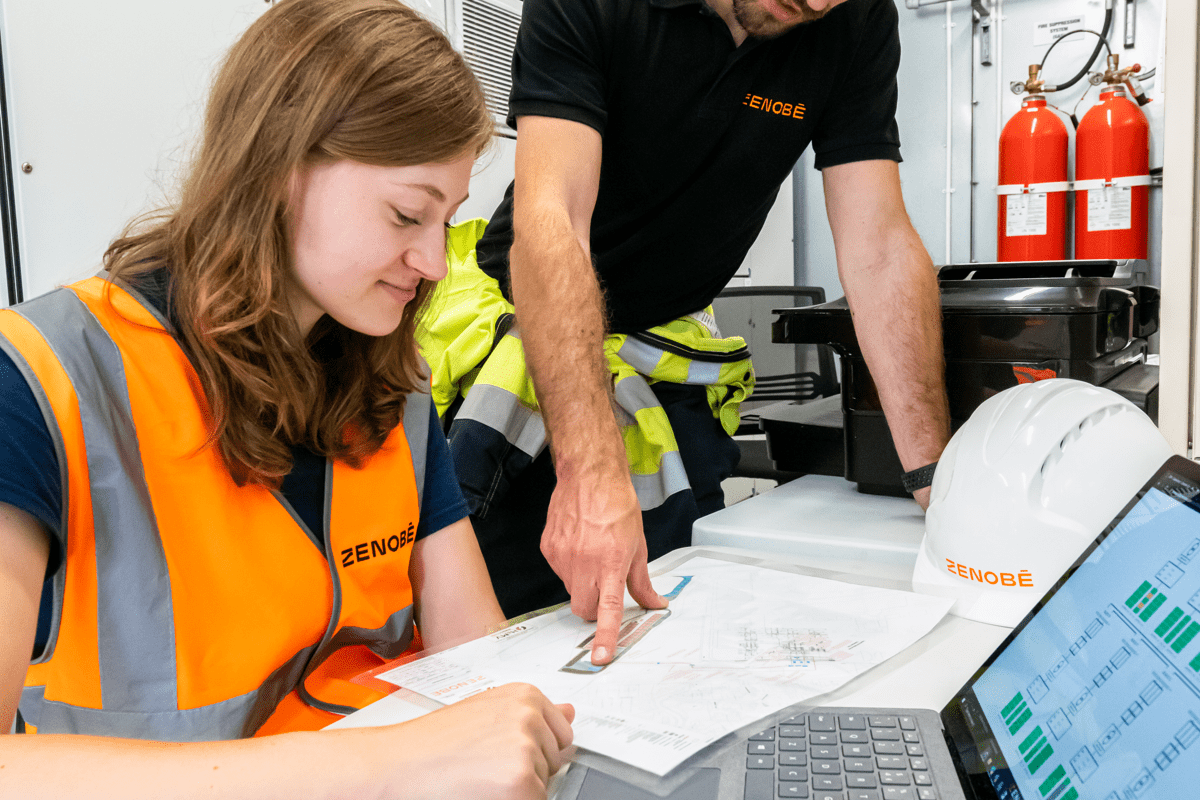 We're passionate about sustainability and are proud to offer Team Zenobē a pioneering and collaborative working environment. We encourage our people to take ownership of their career progression and celebrate those that can think outside the box.
If you'd like to join our community of likeminded people please connect with us or check out our current job openings here.
We'd love to hear from you!
Our benefits depend on your location, but here's a taste of what we have to offer:
+ Performance related bonus

Up to 20% performance related bonus, just for being awesome

+ 25 days paid holiday plus bank holidays

Time for you and family is important, take 25 days holiday with the option to buy and sell more each year

+ Training budget

£1,500 training budget per year, to help you grow with the business

+ Health plan

Cash back on appointments for dental, optical and more

+ Private medical insurance

Cover for you and your loved ones

+ Maternity leave

19 weeks off work with full pay, return to work bonus plus a childcare allowance

+ Flexible working

Many of our people work flexibly in many different ways - talk to us about your needs and let's see how we can make it work

+ Pension

Choose to contribute to your pension from 5% and we'll match up to 8%

+ EV salary sacrifice scheme

Looking to swap to an electric vehicle? We've got you covered!

+ Paternity leave

2 weeks off work with full pay, then work for 6 weeks at 80% of the time but for 100% of the pay

+ Regular social & team events

Small and large group activities, company wide meets and one to one coffee dates.

+ Season Ticket Loan

If you're coming to our office regularly we appreciate this can be costly. Let us buy your season ticket and repay us monthly
We love where we work, but don't just take our word for it...
Zenobē has a fantastic work atmosphere, career progression, and support. The general motivation given and challenge of each project I work on makes coming in every day exciting. It is rewarding to have a meaningful contribution at any level of your profession towards both the advancement of the company and the general climate change and environment.

Kawsar Abdirahmam

Senior EV Performance Analyst, UK

Zenobē's ethos is built around a bit of perpetual curiosity, a desire to really 'solve' problems at their root cause. This is apparent from the top to the bottom of the entire organization. Since joining the team, I've seen first-hand the talent Zenobē has and recruits, it's infectious, collaborative, and energizing. This work may not be for the faint of heart, but all who have a strong desire to, 'partner, 'solve', and 'build' will find refuge here!

Walter Watson

Executive Vice President Partnerships and Operations – Fleet, US

I have always loved to be part of technological developments and solutions to bring the energy transition another step closer. With Zenobé, you are at the front to realise this day-by-day. Within the Benelux team, it is great to have a large diversity on responsabilities to extend the Zenobé spirit into mainland Europe as a new growth region.

Tim Mannaerts

Senior Project Manager, Belgium

Joining this company has been a breath of fresh air, I am so proud to be part of team Zenobé. I can confidently say that this company is a standout in many aspects, from its exceptional company culture to the outstanding employee perks and its unparalleled knowledge of EV electrification and Battery storage systems. The emphasis on collaboration, open communication, and respect for every team member is a defining feature of this company's culture and one can be themselves that produces the best work outcomes.

Pavana Ramiah

Technical Business Analyst, UK

At Zenobé you feel more like a member of the family than an employee! You're seen and valued as an individual and your colleagues genuinely help you out and look out for you. It's this kind of culture that makes you want to give even more in the work you do, knowing you're appreciated and get back what you give. This makes Zenobé feel like a unique place to work!

Tristan Longworth

Power Pricing Account Manager, UK

There are many things I love about working for Zenobé, the brilliant innovators I work with, the work life balance, the support from our leaders, helping create sustainable solutions and change for clients.

Minett Hedger

Bid and Commercial Manager, Australia & New Zealand
Our approach to diversity & inclusion
Our people are our strongest asset and the key determinant of our success. We value a range of skillsets and perspectives. As an equal opportunity employer, we do not discriminate on the basis of any protected attribute. We work to provide equal opportunities and an inclusive work environment, where everyone is fairly treated in the application process and through their career at Zenobē. If there are any adjustments that would help improve your experience with Zenobē, please let us know when you apply.